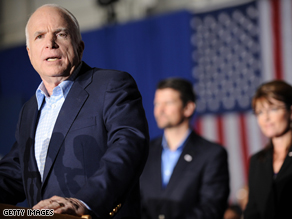 A recent CNN-Opinion Research Corporation poll found 60 percent think McCain has unfairly attacked Obama.
John McCain said this on February 3, 2008, when talking about his run for the White House: "We will run an honorable campaign."
McCain made that statement in response to a question about whether his campaign would resemble George Bush's run for the White House in 2000, one of the nastier campaigns on record.
With less than 2 weeks before Election Day, it's very much an open question whether John McCain has kept his word.
In fact, in the last few weeks John McCain has become downright nasty. It started around the time one of his advisers said that if McCain campaigned on the economy, he would lose. And the ugly personal attacks began.
To read more and contribute to the Cafferty File discussion click here