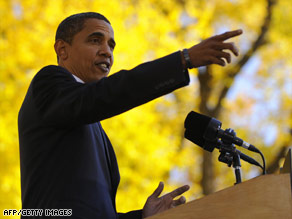 Sen. Barack Obama says Sen. John McCain will not bring the change the country needs.
(CNN) - Sen. Barack Obama on Monday is delivering what his campaign is calling a "closing argument" speech that focuses on the differences between him and Sen. John McCain.
"In one week, at this defining moment in history, you can give this country the change we need," Obama will tell voters at a rally in Canton, Ohio, according to speech excerpts released by his campaign.
Obama will try to make the case that McCain is too similar to President Bush to bring about change.
"Sen. McCain says that we can't spend the next four years waiting for our luck to change, but you understand that the biggest gamble we can take is embracing the same old Bush-McCain policies that have failed us for the last eight years," Obama will say.
The senator from Illinois will argue that he is the candidate who can restore "our sense of common purpose, of higher purpose."