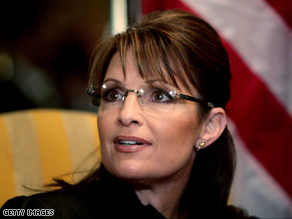 Gov. Sarah Palin met with the wife of a fallen soldier Sunday.
ASHEVILLE, North Carolina (CNN) –- In one of the more solemn moments of her vice presidential campaign, Sarah Palin and her husband Todd met Sunday with the wife of a fallen Army infantryman who had been stationed at Fort Wainwright in Alaska with their son Track.
After wrapping up a boisterous evening rally in Asheville, North Carolina, the Palins were greeted on the airport tarmac by Karie Eggleston, whose husband, 21-year old Cody Eggleston, died last week from wounds suffered during an October 16 mortar attack north of Baghdad.
Palin meets briefly with volunteers and supporters on airport tarmacs as she travels around the country, but she and Todd lingered longer than usual with Eggleston and her parents, chatting for several minutes while standing apart from the staffers and reporters that travel with her.
Palin and her husband both hugged a visibly emotional Eggleston at the end of their conversation.
Pfc. Cody Eggleston, an Oregon native who married his North Carolinian wife in June, was stationed at Fort Wainwright in Fairbanks, Alaska beginning in 2007. Track Palin, who deployed to Iraq last month, had also been stationed at Fort Wainwright, but was in a different unit than Eggleston.