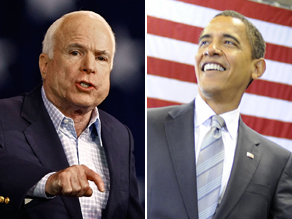 What's behind the candidates technical difficulties?.
ZANESVILLE, Ohio (CNN) - In the final days of a presidential campaign, nothing is left to chance. With so much planning and set-up going into every stop, no detail is too small. So everything runs with clockwork precision, right? Uh, yeah, sure. But when events veer slightly off course, the candidates are quick to point some playfully partisan fingers.
In Reno on Saturday, Barack Obama's microphone died mid-sentence during a rally. He walked the stage and shook hands for the three minutes while crews worked on the problem. When the sound came back, he told the crowd as he resumed, "Hello, hello, hello! I told you folks are having trouble making their electricity bills. Either that or somebody from the McCain campaign kicked our plug out of the socket. That was just a joke, guys, there's no evidence of foul play. Now, where was I?"
Sunday, the lights went out over the stage during the introductions to John McCain at a high school in Zanesville, Ohio, Senator Lindsey Graham was left speaking in the shadows, filling until the problem was fixed so McCain could take the stage. To laughter, McCain said as he began, "Thank you for the warm welcome. I think the lighting is brought to you courtesy of the Democratic National Committee."
At least we think they're being playful.