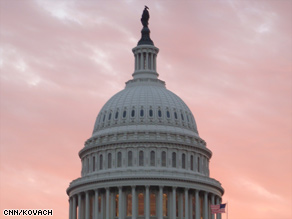 CNN: Senate Democrats eye 'magic 60'
Sens. Mitch McConnell and Elizabeth Dole are two top Republicans lawmakers who find themselves fighting to hold on to their Senate seats.
CNN: Obama says McCain 'finally giving us a little straight talk'
Sen. Barack Obama said Sunday that Sen. John McCain was now "owning up to the fact that he and George Bush actually have a whole lot in common."
CNN: Palin and Hasselbeck blast 'ridiculous' wardrobe story
Ensuring that news of the Republican National Committee's sartorial spending spree will remain in the headlines for at least one more news cycle, Sarah Palin on Sunday sounded off on the $150,000 wardrobe that was purchased for her in September, denouncing the report as "ridiculous" and declaring emphatically: "Those clothes, they are not my property."
CNN: Obama to deliver 'closing argument' Monday
The Obama campaign announced Sunday the Democratic nominee for president will deliver a 'closing argument' speech Monday focused on the differences between the two candidates.
CNN: Biden to anchor: 'Is that a real question?'
An interview Sen. Joe Biden did with an Orlando television station is making headlines Sunday, after the reporter asked if Sen. Barack Obama's now famous conversation with 'Joe the plumber' about 'spreading the wealth' made the Democratic nominee seem like he was adopting Marxist principles.
CNN Radio: Poll numbers? What poll numbers?
McCain bubbles with enthusiasm, Palin addresses her wardrobe, and Obama makes connections. Bob Costantini has today's CNN Radio Political Ticker.

Washington Post: McConnell Needs Kentucky to Deliver
If Barack Obama wins the presidency on Nov. 4, Mitch McConnell, the Senate's minority leader, could be one of the few obstacles confronting Democrats as they seek to enact a sweeping agenda and roll back eight years of Bush administration initiatives.
CNN: Fact Check: Would Obama's tax policy harm people with special needs?
During a speech Friday, Oct. 24, in Pittsburgh, Pennsylvania, Gov. Sarah Palin noted that parents of children with special needs often set up trusts to help ensure long-term assistance. "Many families with special needs children or dependent adults" are concerned that Sen. Barack Obama "plans to raise taxes on precisely these kinds of financial arrangements," she said. "They fear that Senator Obama's tax increase will have serious and harmful consequences, and they're right."
CNN: Ohio a must win for McCain
John McCain is back in Ohio today. He's holding rallies in Zanesville and Lancaster, in the central part of the state.
LA Times: Popularity of mail-in voting surges in California, elsewhere
With nearly half of California votes expected to be cast by mail - and some states becoming mail-in-only - election experts weigh the convenience factor against added expense and possible voter fraud.
NYT: Long by Obama's Side, an Adviser Fills a Role That Exceeds His Title
The senator calls before bedtime. The cellphone in David Axelrod's shirt pocket comes to life, sometimes before midnight, sometimes after.
Cleveland Plain Dealer: Cuyahoga County voting, vote-counting likely to be slow
Planning to dash in Election Day and vote? Don't count on it. It will take anywhere from 18 to 23 minutes for the average Cuyahoga County voter to fill out a ballot.
Richmond Times-Dispatch: Dave Matthews talks up Obama in Richmond
Dave Matthews had the audience's votes locked up. Barack Obama might not.
So, during the acoustic show Matthews played in support of Obama last night at Virginia Commonwealth University's Siegel Center, he mixed a modest dose of politics with his music.
San Francisco Chronicle: Nevada voters play crucial role
Somewhere between the Western wear outlet and the muffin stand inside the Shoppers Square mall, Xiomara Rodriquez, 52 – a veteran, former small-business owner, and grandmother of two – pumps her fist in the air, dancing like she's already hit the jackpot.
Denver Post: Rally pulls record-setting crowd
"Do you ever have small crowds in Denver?" Barack Obama asked a group of supporters gathered Sunday morning at Civic Center.
The answer from the more than 100,000 people who stretched from the City and County Building to the state Capitol was a resounding "NO!"
Washington Post: Faulty Ballots Sent to Voters
As many as 126 District voters were mailed incorrect absentee ballots in the latest slip-up for the D.C. Board of Elections and Ethics, already under scrutiny for mistakes made during the Sept. 9 primary.
NYT: Endgame: Oct. 26
Sunday was the 41st anniversary of the day Senator John McCain was shot down over Vietnam, an event that might put into perspective these last nine days before the election in which he is trailing in the polls. He has been through worse.
Bangor Daily News: Why Maine splits its electoral votes
Does the Electoral College have you stumped, especially the part about Maine and Nebraska being the only two states that can divvy up their electoral votes among presidential candidates? Here's a quick refresher course.