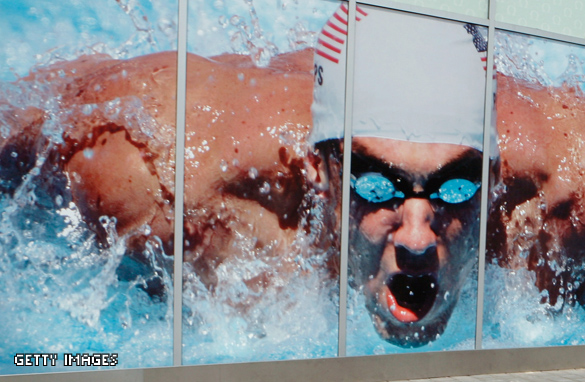 TERRE HAUTE, Indiana (CNN)– Unfortunately for John McCain and Barack Obama, the Michael Phelps Syndrome does not apply to them.
Or at least it will soon not apply to one of them– the one who, a week from tonight, will be elected president.
The Michael Phelps Syndrome– relatively new in our attention-flitting society– dictates that, no matter how famous you are today, you'll be much less famous a few months from now.
In August, the entire nation, and much of the world, was fixated on Phelps' quest for eight Olympic gold medals. You would overhear people talking about him on the street and in restaurants.
The new half-life of fame being what it is, though, today– and this is still only October– August seems years distant. Phelps is a well-known guy, with endorsement contracts in place, but he is not at the center of the universe. That was a summer thing.
Today. . . .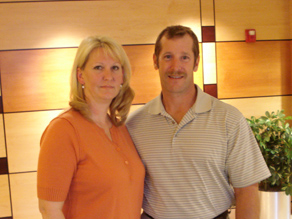 Craig and Michelle Myers are undecided voters
"If McCain and Obama are the two best candidates we can come up with in this great country of ours, then we've got really slim pickings," said Craig Myers, 45, of North Judson, Indiana.
He and his wife, Michelle, are not completely certain which presidential candidate will be the recipient of their votes– but they're much less than thrilled with the choice being presented them.
And the winner, a week from today, will not be the beneficiary of the Michael Phelps Syndrome. The one high-profile occupation that does not allow an employee to fade from the public's attention, regardless of what else is going on in the world, is president of the United States. People will be thinking about the winner constantly beginning next Tuesday night, and every day and night after that for the next four years.
"I don't know any really hard evidence about what either of them will do if they get into office," Michelle Myers said. "All those commercials they put out are so bad. . .it's come to the point, and I'm sorry to have to say this, where I don't care what they have to say, because I don't know whether to believe it"
The names of celebrated athletes may be on the tips of people's tongues for months at a time, but during their off seasons the athletes are allowed to disappear. The biggest movie stars are omnipresent during the time their newest releases are on multiplex screens, but between films they are permitted to become less incessantly visible.
Not the person who wins next Tuesday night.
"I'm 45 years old," Craig Myers said. "And for my whole life, all I remember from politicians on the national level is one lie after another."
Mr. and Mrs. Myers, by the way, had no anger or cynicism in their voices as we talked about these things. They sounded almost wistful, as if wishing that they had reason to believe their words were misguided.
"Months and months of Obama and McCain just jabbing at each other," she said. "It never stops."
Yet it will, in a week. Which is when the Michael Phelps Syndrome– or, more accurately, the absence of it– will make itself the most evident.
"I don't think either of the candidates can fix the problems our country is having right away," Craig Myers said.
But he, and just about everyone else in the United States, will be watching, every day, to see if the winner somehow can.
Craig and Michelle Myers, despite their misgivings, will vote. They wouldn't think not to.
"Both candidates keep talking about change, but they don't tell us specifically what the change will be," Craig Myers said.
Mr. and Mrs. Myers are a tough audience, and they will be waiting to find out. And the person from whom they will want the answers will not have the Michael Phelps luxury of stepping from the glare of the camera lights once the race is over. Because for the winner, this seemingly endless campaign is just the brief warmup before the main event.