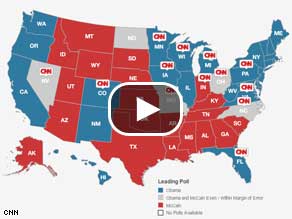 Track the candidates as they crisscross the country.
(CNN) - On Tuesday, the Republican ticket plans to visit Pennsylvania, a state that is key to their electoral map strategy.
Republican presidential nominee John McCain trails his Democratic opponent by double digits in recent polls conducted in the state, but the campaign has said they are buoyed by internal numbers not showing up in public polling.
McCain's schedule calls for rallies in Hershey and Quakertown, Pennsylvania. Republican vice presidential nominee Sarah Palin is expected to join him at both rallies.
McCain is then scheduled to travel to Fayetteville, North Carolina, for a rally.
Palin, meanwhile, will continue to campaign in Pennsylvania, attending rallies in Shippensburg and University Park.
The most recent CNN Poll of Polls in Pennsylvania showed Democratic presidential nominee Barack Obama leading McCain by 10 points, 51 percent to 41 percent. The polls were conducted October 16 through October 22.
See a map of state and national polls
Obama is expected to meet voters in Pennsylvania as well, holding a rally in Chester. He attended a rally in Pittsburgh on Monday.
The visits arrive on the heels of Democratic Pennsylvania Governor Ed Rendell urging the Obama campaign to visit the state before Election Day.
"Sen. McCain and [Alaska Gov. Sarah] Palin have literally camped out here," Rendell said last week. "They are here all the time. And people are beginning to notice that."
"We don't want to take any chances," he continued. "[Obama is] so popular when comes in. He turns undecided voters who listen to him, listen to his economic plan, and we want to nail this thing down."
Following the Pennsylvania rally, Obama is scheduled to travel to Virginia for rallies in Harrisonburg and Norfolk.
The most recent CNN Poll of Polls in Virginia showed Obama with a 7-point lead over McCain, 51 percent to 44 percent. The polls were conducted October 20 through October 26.
Democratic vice presidential nominee Joe Biden campaigns in Florida for a second straight day, attending rallies in Ocala and Melbourne.
Obama leads McCain 48 percent to 46 percent in the most recent CNN Poll of Polls in Florida. The polls were conducted October 13 through October 26.