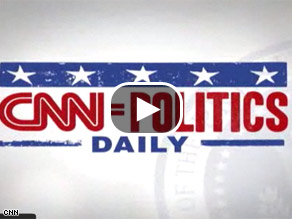 Watch Tuesday's installment of CNN=Politics Daily, The Best Political Podcast from The Best Political Team.
(CNN)—Both presidential candidates are working overtime in Pennsylvania Tuesday. In the latest installment of CNN=Politics Daily, CNN's Suzanne Malveaux reports on Obama's final pitch to the country, while CNN's Dana Bash has the details on McCain's efforts to win Pennsylvania's 21 Electoral Votes, a state he is currently behind in the polls.
Plus: Sen. Ted Stevens was found guilty on seven counts Monday. CNN's Joe Johns explains the verdict and what it means for his already tough re-election bid in Alaska.
Finally: As thousands of people head to the polls, workers armed with video cameras will be close behind. CNN's Deb Feyerick explains how election officials hope video taping polling stations will help keep voter irregularities under control.
Click here to subscribe to CNN=Politics Daily.