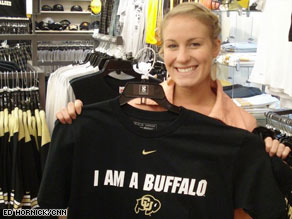 Katie Ulrich says her college savings have run out and she's looking for new ways to pay for her education.
(CNN) - Even before the current economic crisis, voters listed the economy as the top issue in the presidential election.
In a CNN.com special report, Battleground Voters, we talked to voters in five battleground states - Colorado, Florida, Missouri, North Carolina and Ohio - to find out how the economy would influence their choice for president.
In the second of four parts, we talked to students, who say that while they're worried about making ends meet in college and jobs when they graduate, social issues matter, too.
CNN's special report on battleground voters continues Thursday with a look at retirees and Friday with unemployed voters.