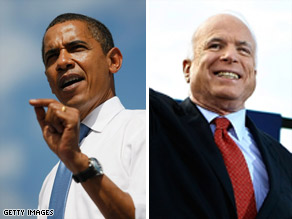 Both candidates have promised to ease the financial burden on Americans.
NEW YORK (CNNMoney.com) - Tax breaks, tax breaks, tax breaks. For months now, Barack Obama and John McCain have promised voters that they will lessen the financial burden on Americans – even as the economic crisis worsens and the country racks up record deficts.
McCain, who wants to extend President Bush's tax cuts for everyone, says repeatedly that now would be the worst time to raise taxes.
"Raising taxes makes a bad economy much worse," McCain said on Tuesday."Keeping taxes low creates jobs, keeps money in your hands and strengthens our economy."
Obama, who would repeal some of the Bush tax cuts but only for the highest-income taxpayers, says now more than ever the middle class needs help.