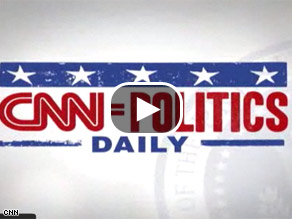 Watch Wednesday's installment of CNN=Politics Daily, The Best Political Podcast from The Best Political Team.
(CNN)—Six days until Election Day, and the presidential candidates are focused on a handful of states that could decide the race. Sens. McCain and Obama are focusing Wednesday on North Carolina, Ohio and Florida. In the latest installment of CNN=Politics Daily, CNN's Ed Henry covers McCain, while CNN's Suzanne Malveaux has the latest from Obama.
Plus: Early voting has already begun in many states. CNN's Gary Tuchman takes a look at what voting looks like in the battleground state of Nevada so far.
Finally: Just who is Joe the plumber? CNN's Alina Cho takes a look at the real facts behind the overnight celebrity.
Click here to subscribe to CNN=Politics Daily.