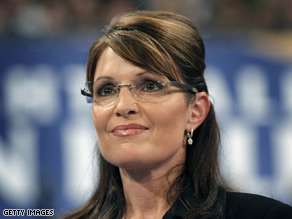 Palin is working to reassure voters that she handle the role of commander-in-chief.
CAPE GIRARDEAU, Missouri (CNN) - In an effort to address voter concerns that she is not prepared to step in as commander-in-chief, Sarah Palin will meet Thursday in Pennsylvania with a group of the campaign's national security advisers.
Palin will meet with former Pennsylvania Gov. Tom Ridge; former CIA director James Woolsey; former Navy Secretary John Lehman; Richard Williamson, the U.S. special envoy to Sudan; and retired Navy Rear Admiral Marsha Evans.
"With the election coming on Tuesday, Gov. Palin and Sen. McCain are reviewing national security priorities with their top national security advisers," an adviser to Palin said of the roundtable.
Thursday's meeting in Erie will be the third policy-oriented campaign event for Palin. Over the last week, the vice presidential candidate has given two policy speeches focusing on special needs children and energy issues.
Aides to the governor say she has been dedicated to shoring up her policy portfolio over the last two months and is eager to demonstrate her grasp of substantive issues, despite the few remaining days in the campaign.
Unlike her two policy speeches, reporters will not be allowed to observe the roundtable. The governor and her advisers will participate in a "photo spray" for television cameras before the meetings, and she will make a statement to the press afterwards.