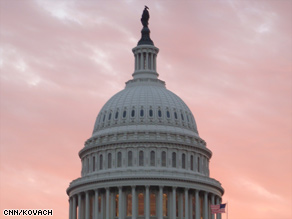 CNN: 30-minute Obama ad shows campaign muscle
Sen. Barack Obama's 30-minute TV ad, which ran simultaneously on broadcast and cable networks at 8 p.m. ET Wednesday, is muscle-flexing that has little precedent, a campaign advertising expert said.
CNN: Obama goes primetime
What do you do when you've smashed all records for fundraising in a presidential campaign? How about booking half an hour of eyeball-grabbing television real estate to hammer home your message across four major networks.
CNN; Palin accuses Obama of ties to second 'radical professor'
Gov. Sarah Palin on Wednesday said Sen. Barack Obama has ties to a Columbia University professor who she said is "a former spokesperson for the Palestinian Liberation Organization."
CNN: McCain: Race won't determine outcome of election
Presidential candidate John McCain denied Wednesday that race will determine the outcome of next week's election against Barack Obama, who hopes to become the country's first black president.
CNN Radio: John McCain and Barack Obama talk about Barack Obama
The things Barack Obama didn't say, McCain is fighting at home, and Elizbeth Dole plays the "Godless" card. Lisa Desjardins has today's CNN Radio Political Ticker from the campaign trail.

CNN: Battling for votes: Students weigh economics, ethics
Katie Ulrich, a junior at the University of Colorado, is worried about paying for the next two years at college - and the effect the economic downturn is having on her chances of getting a job after college.
CNN: Judge: PA must have paper ballots ready if half of machines fail
Pennsylvania must have paper ballots available for its voters if half the machines at a polling place break down, a federal judge ruled Wednesday.
CNN: Palin's future causes Republican rift
Election Day is still days away, but Republicans are already caught up in a heated debate about Sarah Palin's future role in the party should the GOP ticket fail to win the White House.
CNN: Shays takes swipe at McCain
New England's lone House Republican appears to have publicly broken with his party's standard-bearer, saying John McCain has not run a clean campaign and is likely to lose his bid for the presidency.
CNN: Poll: Obama surges in Colorado, makes gains on Electoral Map
Does the road to the White House run through the Rocky Mountains? A new state poll in Colorado suggests that Barack Obama has doubled his lead over John McCain there, as the Democratic nominee claims more territory on CNN's Electoral Map.
CNN: Fact check: Is Columbia professor Khalidi a 'political ally' of Barack Obama?
Alaska Gov. Sarah Palin, speaking on Oct. 29 in Bowling Green, Ohio, said Barack Obama "spent a lot of time with" Rashid Khalidi. "Rashid Khalidi, he, in addition to being a political ally of Barack Obama, he's a former spokesperson for the Palestinian Liberation Organization," she said.
CNN: Foreclosure crisis raising questions for some Florida voters
The economy has been Issue #1 for voters in CNN's polls for several months. As Election Day approaches, the foreclosure crisis means new concerns for some voters who have reached out for information on CNN's voter headline.
CNN: New ACORN ad: Tell McCain, the GOP 'not this time'
Embattled community organizing group ACORN is taking the offensive with a new ad targeting Sen. John McCain and the Republican Party, accusing the GOP presidential nominee and his party of attempting to intimidate voters.
Washington Times: Lieberman may still hold key to chamber
Through a quirk in the rules, Connecticut Sen. Joe Lieberman may once again emerge as the Senate Democrats' indispensable man, despite his support of the Iraq war, his full-throated endorsement of Republican Sen. John McCain for president and his prime-time speaking slot at the Republican National Convention in September.
Chicago Tribune: Congressman's $200,000 loan
U.S. Rep. Luis Gutierrez personally lobbied Mayor Richard Daley to back a controversial multimillion-dollar development for a campaign contributor who had just lent the congressman $200,000 in a real estate deal, a Tribune investigation has found.
Miami Herald: McCain, Obama battle for Florida's big prize
The political spotlight shone brightly on Florida Wednesday as Democrat Barack Obama and Republican John McCain offered contrasting plans to fix the economy in stump speeches across the state.
Richmond Times-Dispatch: Sen. Warner warns of military spending cuts under Obama
Sen. John Warner said Wednesday that a House Democrat's call for massive military spending cuts should make Virginians rethink supporting Barack Obama for president.
Denver Post: A win for purged voters
Ballots cast by voters who have been canceled from the state's voter rolls since mid-May will get extra oversight to make sure their votes are counted, under an agreement reached late Wednesday in U.S. District Court.
Minneapolis Star Tribune: Callers question registered Minnesota voters' eligibility
Minnesotans should beware intimidating phone calls about their voting practices from people purporting to be with his office, Secretary of State Mark Ritchie said Wednesday.