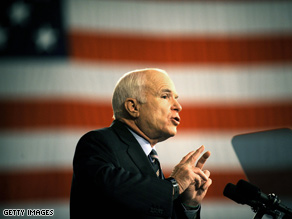 McCain aides say a Reagan official who endorsed Obama lobbied to head the Arizona senator's transition.
COLUMBUS, Ohio (CNN) - Former Ronald Reagan Chief of Staff and powerhouse lobbyist Ken Duberstein became the latest member of the GOP establishment Friday to jump ship, suggesting to CNN he'll vote for Barack Obama.
But three McCain sources tell CNN that little more than three months ago, Duberstein was pushing to run John McCain's post-election transition to the White House - a charge Duberstein himself insists is not true.
One of the sources says he was contacted by Duberstein in July with a request to relay a message to the McCain team that he thought he would be an "ideal" person to run the Republican nominee's transition.
This source - who noted that at the time McCain was doing well in the polls - said he and Duberstein had several conversations about it, and that he did pass that information along to the campaign.
Two senior McCain advisers confirm this account, one telling CNN that Duberstein reached out at the "highest levels of the campaign."
However, Duberstein vehemently denies to CNN that he lobbied to run any McCain transition. He said he did have a conversation with someone outside the McCain team, but insists that he was the one approached, and did not push for the post.
"This is a non-story," Duberstein tells CNN.
According to a McCain aide, Duberstein was an adviser for the Arizona senator' 2000 campaign, but he never endorsed or worked at all with McCain during the 2008 election cycle.
Duberstein told CNN's Fareed Zakaria this week that he will likely vote for Obama, because of Colin Powell's endorsement.
"Well, let's put it this way - I think Colin Powell's decision is in fact the good housekeeping seal of approval on Barack Obama," said Duberstein.
Duberstein and Powell have been close friends for decades, dating back to their work together in the Reagan administration.