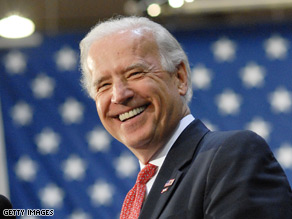 Sen. Biden admitted he is superstitious and denied any gaffes Monday.
ZANESVILLE, Ohio (CNN) – For the first time in almost two months, Joe Biden came back on his campaign plane to talk to reporters, denying that he has ever made a 'gaffe' that has harmed the campaign.
"For all the stuff about gaffes, I don't think there have been any real gaffes," Biden told reporters, taken aback by the rare appearance, who crowded around him in the aisle of the plane. "I mean I don't see anything in your polling data demonstrating any of that stuff you guys love to write about."
When the talkative senator was asked if he's relieved he has stayed relatively away from any big gaffes, he countered that he has never made any.
"You guys love saying that about me but I tell you what, just look at the numbers," Biden argued. "I don't have any problem with what I've said, and there's nothing I've said that I would back off of."
Republicans have been quick to jump on Biden's off-message comments in the past two months, quickly blasting them out by e-mail to reporters and labeling them 'gaffes.' Former Republican presidential contender Rudy Giuliani said Sunday that Biden has been one of the GOP's best surrogates.
The Delaware senator said he would not comment on winning or losing, blaming longtime superstition ("from the time I was a young athlete," he said). But asked about Pennsylvania, he quickly added that he knows the state well and if he had to, would bet on winning it.
What about Ohio, Missouri and Indiana, all states where polls are tighter?
"Indiana, I don't want to bet you on either. I mean, I think we can win all three. Am I ready to bet my daughter's graduate school tuition on it? Nope. If I had to bet you on Pennsylvania, I'd bet it," said Biden.
"Democrats have not done well in those states, but there's something in the air, guys...there's pace on the ball.
"...Have you ever seen an election with this much intensity? I don't mean the candidates. I mean the people. I've never seen anything with this much intensity," he said. "The issues are on our side. Presumptuous to say this, I think we've run a really good campaign, he said, adding later: "But I'm superstitious, and I'm getting the hell out of here."