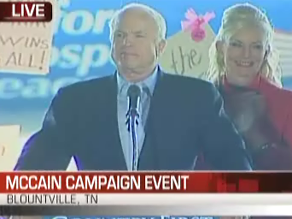 Watch the event on CNN.com/live.
(CNN) - John McCain held a campaign rally on the Tennessee/Virginia border earlier Monday, during which he highlighted comments Barack Obama has made on coal.
"You know we found out yesterday what Sen. Obama really thinks about coal." he told the crowd. "In a new video talking about his policies on coal, he said... 'if somebody wants build a coal powered plant they can. It is just that it will bankrupt them.' How out of touch is that?...I am not going to let our coal industry go bankrupt."