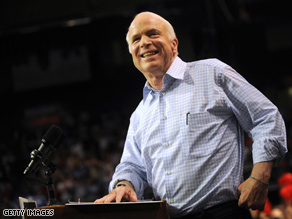 McCain is heading back to New Mexico tomorrow.
(CNN) - John McCain will spend the final hours before the polls close Tuesday visiting Colorado and New Mexico, two states his campaign manager now says are key to a last-minute "new pathway to victory."
Both states voted for President Bush in 2004, but have been leaning Obama this cycle.
Watch: McCain looks for a late shift in momentum
Late Sunday, McCain campaign manager Rick Davis sketched out a fresh roadmap to the White House that runs through the West, telling reporters that new surveys that suggested Barack Obama's lead was shrinking to single digits had given the Republican nominee reason for optimism. "If we can win Nevada, Colorado and New Mexico, all of the sudden we've got a whole new pathway to victory," Davis told reporters. "Those weren't even on the list three weeks ago."
McCain's visit to New Mexico tomorrow will mark his second stop in the state in two days.
Watch: McCain says 'I need your vote'
Obama leads by 6 in the most recent CNN Colorado poll of polls, and by 8 points in an Albuquerque Journal/Research & Polling survey of New Mexico voters, both released late last week.
Both states also feature Senate races for seats held by retiring Republicans; Democrats are heavily favored in both contests, as the party pushes for a filibuster-proof 60-seat majority in the Senate.