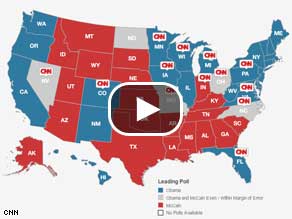 Track the candidates as they crisscross the country.
(CNN) - It's almost over. The presidential contenders have just a few hours to stump for votes before polls open and one of the longest, most expensive and exciting presidential campaigns in recent memory draws to close.
Trailing in most national polls and at an apparent disadvantage in many battleground states, Republican presidential nominee John McCain has a punishing schedule Monday. Campaign events are scheduled in seven states.
McCain begins the day meeting voters in Tampa, Florida. He then attends rallies in Blountville, Tennessee; Moon Township, Pennsylvania; Indianapolis, Indiana; Roswell, New Mexico; and Henderson, Nevada. He ends the day in Prescott, Arizona.
Alaska Gov. Sarah Palin, McCain's running mate, has a busy day ahead of her as well. She is scheduled to attend rallies in five states: Lakewood, Ohio; Jefferson City, Missouri; Dubuque, Iowa; Colorado Springs, Colorado; Reno and Elko, Nevada.
Following the Nevada rally, Palin is expected to fly to Alaska, where she will cast her ballot on Tuesday morning.
Meanwhile, Democratic presidential nominee Barack Obama will hold events in three states. He begins the day in Jacksonville, Florida. He then travels to Charlotte, North Carolina, followed by a rally in Manassas, Virginia.
Obama's running mate, Sen. Joe Biden, campaigns in Ohio, Missouri and Pennsylvania. He's expected to hold rallies in Zanesville and Copley, Ohio, and Lee's Summit, Missouri. He ends the day in Philadelphia, Pennsylvania.
The GOP seems to be spending the day on defense: With the exception of Pennsylvania, President Bush carried each of the states the two tickets plans on visiting Monday.
A national CNN/Opinion Research Corporation poll released Sunday showed Obama leading McCain by 7 points, 53 percent to 46 percent. The poll was conducted October 30 through November 1 and had a margin of error of plus or minus 3.5 percent.
A CNN Poll of Polls, also released Sunday, showed Obama leading McCain 51 percent to 44 percent. The polls were conducted October 28 through November 1.