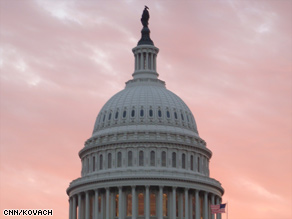 CNN: Excitement, frustration as early voters brave long lines
Dana Zoladz and four friends thought they would cast ballots Sunday in Columbus, Ohio. Then they learned how long they'd need to stand in line.
CNN: Strategists predict Obama victory, big gains for Democrats
With only two days until Election Day, campaign insiders offered up their predictions for how the general election and congressional races will unfold. Speaking on Sunday to CNN's Wolf Blitzer, the best political team made the following forecasts:
CNN: McCain: I won't quit election fight
John McCain returned to Virginia this weekend for what was expected to be his final visit to the crucial battleground state before Tuesday's election and insisted the race for the White House was far from over.
CNN: Palin knocks Obama over months-old coal comments
Campaigning in coal country just two days before the presidential election, Sarah Palin is highlighting an interview Barack Obama gave to the San Francisco Chronicle in January in which the Democrat suggested coal plants would be bankrupted by his cap-and-trade proposal.
CNN: Bush absent from campaign trail
In the waning days of the election season, as both parties campaign fervently for their candidates, one man has been notably absent - President George W. Bush.
CNN Radio: Obama Gets Bossy and McCain does SNL
Obama confident! Reverend Wright resurrected! McCain hits seven states today! CNN's Bob Costantini has today's Political Ticker.

CNN: Campaign: Obama didn't know aunt's immigration status
Sen. Barack Obama didn't know his aunt might be living illegally in the United States, as media outlets are reporting, and his campaign will return contributions she made, an aide said Saturday.
Washington Post: McCain's Midnight Miami Rally Draws Out Enthusiasm
Standing before thousands of screaming supporters at a midnight rally here, GOP presidential nominee John McCain said he's learned the secret to successful campaigning with just one day until the election: "We've got to have all of the rallies at this time of night, I'm telling ya."
CNN: Protesters make noise at Biden event
Just two days after completing a three-day bus tour of central and southern Florida, Joe Biden is back in the state for three events Sunday, this time in the north as part of campaign's final battleground state push before Tuesday's election.
CNN: Sen. Dick Durbin's daughter dies
The daughter of Sen. Dick Durbin died Saturday from a congenital heart condition, the Illinois Democrat's office said.
CNN: Palin costing McCain, poll suggests
A new national poll suggests Sarah Palin may be hurting Republican presidential nominee John McCain more than she's helping him.
CNN: McCain warns against potential Democratic majority
It's one of John McCain's closing arguments in his bid for the White House. The Republican Presidential nominee suggests that Democrats will increase their majorities in Congress, and he warns of one party rule by the Democrats if Barack Obama is elected president.
CNN: Obama's final push for votes starts in Florida
Barack Obama will start the final full day of the 22-month presidential campaign in the state that cost Democrats the White House eight years ago.
CNN: Biden unprompted = off-message?
If you listen carefully, every so often Joe Biden will slip a few words into his speech not intended for those he's giving the speech to.
CNN: McCain pokes fun at campaign in 'SNL' visit
With three days to go before the elections and polls showing him trailing, Republican presidential candidate John McCain appeared on NBC's late night comedy show "Saturday Night Live," poking good-natured fun at his campaign.
CNN Voter Hotline: Long lines, excitement as voters cast early ballots
Enthusiasm at the polls continued on Sunday with waits for early voting in some states stretching to six hours. The CNN Voter Hotline got calls this weekend from voters awed at the turnout and others frustrated by the wait.
Washington Post: Hard-Fought Battle in Hard-Hit Ohio
With the presidential campaigns pressing to get out the vote in the race's final hours, no state is being more fiercely contested than Ohio, which provided President Bush with his decisive margin of victory four years ago.
Richmond Times-Dispatch: Election Day effort huge
The election numbers are in and they are huge. Not the vote totals, but the numbers it takes to put on an election in Virginia:
2,400 polling places
10,600 pieces of equipment
30,000 election officers
AP: Attorney says FBI probe clears Nevada Gov. Gibbons
Nevada Gov. Jim Gibbons, whose first term has been marred by an FBI corruption investigation, has been cleared of wrongdoing and will not be charged in the probe, his attorney said Sunday night.
Chicago Tribune: Your guide to the Obama Grant Park rally
Democratic presidential candidate Barack Obama returns home Tuesday for an Election Night rally in Grant Park that has sparked huge civic interest and many questions about how the event will work.