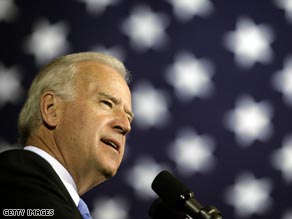 Democratic Sen. Joe Biden was re-elected to his seventh term in the U.S. Senate Tuesday night.
CHICAGO (CNN) - If things don't turn out well for the Democratic ticket tonight, Joe Biden can be comforted by the fact that he won't be out of a job.
In a race that was essentially a foregone conclusion, Biden was re-elected to his seventh term in the U.S. Senate Tuesday night, beating 39-year-old Republican challenger Christine O'Donnell.
Biden hasn't campaigned for re-election since becoming the vice presidential nominee on the Democratic ticket, but he did release a one-minute campaign ad and mention his re-election at Delaware's Jefferson-Jackson dinner on October 13.
"Just remember folks, I am on the ballot. Don't be carried away with this vice president stuff. I am on the ballot running for my seventh term," said Biden. "So don't forget, don't stop at the top of that ticket, walk your way down. You can vote twice for the first time in your life for the same guy and it be legal."
O'Donnell is a conservative activist and marketing consultant who has never held political office and who has complained that Biden hasn't come home to campaign against her.
"If he was a true servant of the people, he would honor the office of U.S. Senate ... at least feign an attempt of running," O'Donnell told Politico.
Around Wilmington, Biden doesn't have the usual 'for Senate' campaign signs, instead his simply read "Delaware's Joe Biden," and he has said in the past that Delaware voters simply know him as "Joe."
If Biden becomes the vice president-elect, the duty falls to the state's governor to name a replacement when Biden resigns, which he said he would do when sworn in as vice president. The new Democratic governor, Jack Markell, would name someone to serve until 2010 at which point an election will be held.
There is strong speculation that Biden's son Beau, the state's attorney general and a captain in Delaware's National Guard awaiting deployment to Iraq, would run for his father's seat.