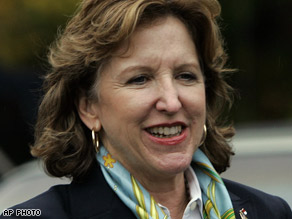 Kay Hagan greets voters during a campaign stop Greensboro, NC.
(CNN) - CNN projects that Democrat Kay Hagan has defeated incumbent Republican Elizabeth Dole in the North Carolina Senate race.
Dole started the summer with a significant cash advantage and a polling edge to match. But state Sen. Kay Hagan took advantage of reports highlighting Dole's infrequent visits to the state and her links to President Bush.
Democrats funded spots that seemed to subtly raise the question of age, asking whether the 72-year-old Dole was "92 or 93" - the percentage of the time she voted with the president, and one independent group's estimate of her effectiveness. And Barack Obama's presidential campaign, competing in the newly competitive presidential battleground, poured resources into the state - which had a spillover advantage for the financially outmatched challenger.
In the final week of the campaign, Dole released an ad - "Godless" - that implied Hagan was an atheist. But the move didn't have the effect Dole had hoped: In the race's final days, the incumbent's standing in the polls fell by several points. In exit polls, moderates went for Hagan by nearly two to one. Voters who are not self-identified evangelicals went for Hagan by a similar margin.
The economy was by far the biggest issue for North Carolina voters, and those who said the nation's financial woes were their top concern went overwhelmingly for Hagan. The challenger also won among those most concerned about health care, energy policy and the war in Iraq. Only the minority of voters who said they were most worried about terrorism supported Dole.