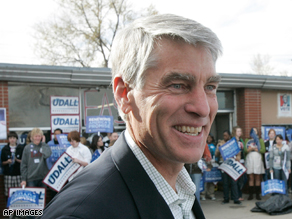 (CNN) - CNN projects that Democrat Rep. Tom Udall of New Mexico has defeated Republican Rep. Steve Pearce for the Senate seat held by retiring GOP Sen. Pete Domenici.
When Domenici announced his retirement, the state's entire congressional delegation lined up to replace him. But Pearce emerged battered from his primary battle with fellow GOP Rep. Heather Wilson, and Udall boasted a far bigger campaign war chest.
So Domenici's retirement didn't just cost his party a Senate seat - Wilson's primary season loss and Pearce's general election defeat mean the race also ended up claiming both the state's Republican congressman.
The win, long expected by Republicans, marks a pickup for the Democratic Party.