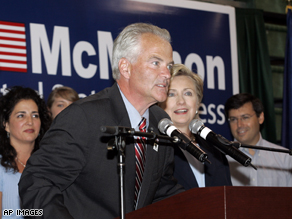 NEW YORK (CNN) - The New York House seat in District 13 was the last Republican seat in New York City. It will switch into the Democratic column.
Democrat Mike McMahon, a lawyer and City Council member for the past eight years, has defeated Republican Robert Straniere.
The race is to replace Republican Congressman Vito Fossella. In May, he was pulled over in Alexandria, Virginia, and accused of drunken driving. Fossella later admitted having an affair and fathering a child out of wedlock.
Amid the scandal, Fossella decided against seeking re-election.
McMahon had been endorsed by Republican-turned-independent New York Mayor Michael Bloomberg.