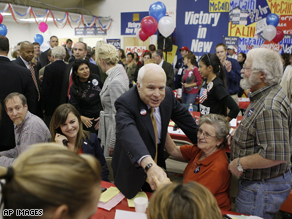 From Leslie Sanchez, CNN Contributor
John McCain spent part of this Election Day campaigning in New Mexico, a place where 41 percent of the registered voters had cast their votes even before the polls officially opened today.
According to the New Mexico Secretary of State, more than 344,000 voters cast early ballots and there were nearly 155,000 absentees. There are about 1.2 million registered voters in New Mexico.
In Bernalillo County, home to Albuquerque – where McCain spent part of his last day of campaigning - more than half the voters had already cast their ballots before the sun rose this morning over the Sandia Mountains.
Al Gore beat George W. Bush in New Mexico by 5,988 votes, and Bush returned the favor to John Kerry by just 366, so the Land of Enchantment is a presidential battleground in every sense of the word.
Dr. Christine Sierra of the University of New Mexico in Albuquerque and one of the best-recognized experts on Hispanic voting trends in the southwest, says the massive turnout will no doubt be the critical element in how the state votes tonight.
"In '04, the Republicans were able to increase their numbers in more counties than did the Democrats, which helped George W. Bush win this state," Sierra said today.
Minority turnout, she believes, is especially important. "Non-Hispanic whites tend to favor McCain," Sierra observes, while Hispanics favor the Democrats by margins of two to one or more. "If non-Hispanic whites were the only voters in New Mexico, McCain would win this state."
The ground effort in New Mexico, says Sierra, has been "phenomenal," especially by the Obama forces. The state's senior senator, Pete Domenici, is retiring and all three of the state's House seats are open, which has intensified interest.
Among the numbers Sierra will be watching tonight will be turnout figures from Election Day voting in Bernalillo County. "It'll be interesting to see if McCain's last minute visit here will affect turnout at all among those who chose not to vote early," Sierra said.