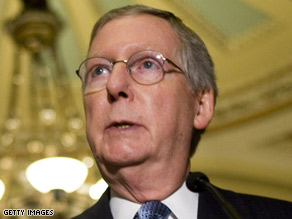 U.S. Senate Minority Leader Mitch McConnell (R-KY).
(CNN) - CNN projects that Senate Minority Leader Mitch McConnell will hold on to his Senate seat - a blow for Democrats looking to capture a filibuster-proof 60-seat majority - and will look to retain his leadership position, despite his party's losses this evening.
Even before McConnell's victory seemed secure, his spokesman Don Stewart told CNN the senator was looking to hold on to his post as Senate Minority Leader.
While there is no known opposition to McConnell keeping his leadership post, it's not uncommon for rank and file members to replace their leaders after suffering significant party losses - as appears to be the case for Senate Republicans tonight.
McConnell sat atop the list of Democratic targets this year. The four-term senator won his last re-election bid with 65 percent of the vote - but the tough climate facing Republican incumbents, coupled with support for the financial bailout unpopular with his constituents, made for a tough race against businessman Bruce Lunsford.
Republicans had said they'd found a winning formula in McConnell's race: Connect Lunsford to Barack Obama, who lost the state to Hillary Clinton by a wide margin during the Democratic primary season, and repeated that showing Tuesday night. Lunsford lost a gubernatorial bid last year, but the Democratic Party had higher hopes for him this time, funding an extensive ad buy in the state (though not as extensive as McConnell: a GOP source said the senator had bought up "every available second" of ad airtime.) The race tightened considerably as Democrats painted McConnell as an advocate of de-regulation - but the incumbent was still favored Tuesday.
House Majority Leader John Boehner of Ohio also said tonight he will seek another term as the top Republican in the House. If Boehner also wins, McConnell and Boehner would be the top elected Republicans in the country.