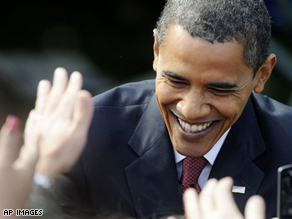 (CNN) - Barack Obama is set to win seven states and the District of Columbia as polls close at 8 p.m., CNN projects, based on exit polls.
The Democratic candidate is on pace to beat Republican John McCain in Connecticut, Delaware, the District of Columbia, his home state of Illinois, Maryland, Massachusetts and New Jersey. CNN projects he will also win three of the four electoral votes in Maine, which splits its electoral votes proportionally.
That would give him 77 electoral votes to McCain's 34. A candidate needs 270 to win the White House.