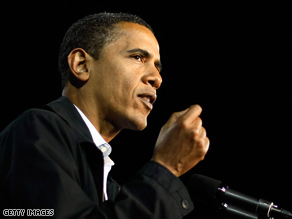 (CNN) - Democrat Barack Obama is on target to win the critical battleground state of Ohio, CNN projects.
The projected victory makes it very difficult for Obama's rival John McCain to win the White House. No Republican has ever become president without winning Ohio.
Watch: Obama wins Ohio
Ohio is the first state that went for President Bush in 2004 but flipped to the Democratic column this year. No states that went Democratic in 2004 have yet gone for McCain.
The state's 20 electoral votes would bring Obama's total to 194, versus 69 for McCain. A candidate needs 270 to win.
CNN projections are based on exit polls and partial results.