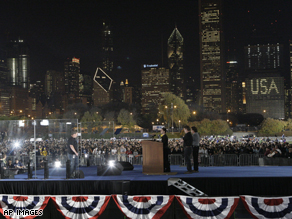 CHICAGO (CNN) – Advance staff members for Sen. Barack Obama have begun to test out the podium where he is expected to speak in the coming hours.
The ticketed areas within Grant Park are filling up, and people are pressed against bicycle fencing, waving signs and waving to the hundreds of cameras trained on the ever-growing crowd.
The area directly beneath the catwalk and podium is reserved for VIP guests and staffers. With each state called for Obama, staff members, who have appeared tense and haggard in recent days, are yelping and jumping around. Many staffers have also brought their parents into Chicago to take in the evening.
In a sign that the entire city is stoked about tonight's attention, red, white and blue bunting lines Michigan Avenue, and buildings in downtown Chicago that face Grant Park have turned on lights to spell out "USA" and "VOTE 2008."