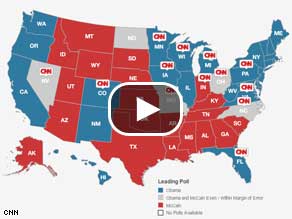 Track the candidates as they crisscross the country.
(CNN) –- After months of rallies, speeches, diner visits and rope lines, the presidential campaign trail comes to an end Tuesday.
The candidates will cast their ballots, hold a few final events to meet voters on Election Day, and then await the outcome in nominees' hometowns.
John McCain, the Republican presidential nominee, will cast his ballot in Phoenix, Arizona. His schedule then places him in Grand Junction, Colorado, for a rally and an event in nearby Albuquerque, New Mexico.
President Bush won Colorado and New Mexico four years ago, but recent polls have shown Obama with an advantage there.
Gov. Sarah Palin, McCain's running mate, will vote in Wasilla, Alaska, and then make her way to Arizona for the Republican Election Night party.
Democratic presidential nominee Barack Obama plans on voting in Chicago, Illinois. He is then scheduled to visit Indianapolis, Indiana for an event.
The most recent CNN Poll of Polls in Indiana showed a tight race. McCain led Obama by 1-point, 47 percent to 46 percent. The polls were conducted October 26 through November 2.
Obama will return to Chicago for Election Night festivities.
Joe Biden, the Democratic vice presidential nominee, is expected to meet voters in Virginia on Tuesday.
A recent CNN Poll of Polls in Virginia showed Obama leading McCain by 5-points, 50 percent to 45 percent. The polls were conducted October 26 through November 2.