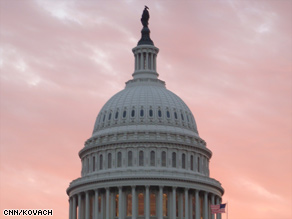 CNN: McCain, Obama on blitz through battleground states on final day
Sens. Barack Obama and John McCain stumped into the early morning in their last efforts to sway voters before they go to the polls hours later on Tuesday.
CNN: Obama, McCain campaigns take late-game tactics to Pennsylvania
The ground war matters most now, and a little humor never hurts before a few hours of trudging through neighborhoods, looking for votes.
CNN: Palin didn't violate ethics law, 2nd probe finds
Alaska's Personnel Board concluded Monday that Gov. Sarah Palin did not violate ethics law by trying to get her ex-brother-in-law fired from the state police, contradicting an earlier investigation's findings.
CNN: Dixville Notch has spoken: It's Obama in a landslide
Democratic presidential candidate Barack Obama emerged victorious in the first election returns of the 2008 presidential race, winning 15 of 21 votes cast in Dixville Notch, New Hampshire. People in the isolated village in New Hampshire's northeast corner voted just after midnight Tuesday.
CNN: Biden confident but superstitious, denies any gaffes
For the first time in almost two months, Joe Biden came back on his campaign plane to talk to reporters, denying that he has ever made a 'gaffe' that has harmed the campaign.
CNN: Obama's grandmother dies after battle with cancer
Sen. Barack Obama's grandmother, Madelyn Dunham, has died following a bout with cancer, Obama and his sister, Maya Soetoro-Ng, said Monday. She was 86.
CNN: Past trouble spots could flare again, election analyst says
Registration and absentee ballot issues topped last-minute concerns among voters in the days before Tuesday's presidential election, with one analyst predicting previous flashpoints may cause headaches again this year.
CNN: Palin's health assessed as 'excellent' on eve of election
Just hours before Election Day, the McCain campaign released a summary of Gov. Sarah Palin's health - a physician's letter saying the vice presidential candidate is in "excellent health."
CNN: Cindy McCain says media gives Palin a bad rap
Cindy McCain came to the defense of Gov. Sarah Palin Monday, telling CNN's Larry King the media has unfairly criticized the Republican vice presidential nominee when it comes to her qualifications and her wardrobe.
CNN: Hank Williams, Jr. says Obama doesn't like the National Anthem
In the waning hours of the presidential race, the toughest shot against Barack Obama may not have come from the Republican ticket, but from country music star Hank Williams, Jr.
CNN: Voters receiving misleading robo calls in Ohio
On the eve of Election Day, amid overwhelming public interest in the presidential race, some voters are being confronted with a sea of election-related misinformation.
CNN: Florida radio host jokes about incorrect date for voting
In the final hours before Election Day, callers to CNN's Voter Hotline are reporting misinformation that is circulating in some of the battleground states, including some that were intended as jokes.
CNN: Cheney's hometown paper endorses Obama
With just over a day before polls start to close, Vice President Dick Cheney's hometown newspaper named their presidential pick — Democratic Sen. Barack Obama.
CNN: CNN Voter Hotline: Time off from work to vote in Georgia
Go to work or go to vote? That's a question voters across the country will be facing Tuesday in the midst of what is expected to be record turnout for voting to determine the next occupant of the White House.
CNN: Palin asks if Democrats think terrorists are 'the good guys'
After warning an audience Monday in Missouri that a government run by Democrats would "gut" defense spending, Palin asked the crowd: "Do they think that terrorists have all of a sudden become the good guys?"
CNN: Cafferty: How long are you willing to wait to vote?
The prescription for tomorrow is comfortable shoes and patience. It's going to be awesome.
CNN: Misleading calls in Virginia caused by computer glitch
Sometimes what seems like a political "dirty trick" is just a simple mistake.
CNN: Fact check: Did Obama really advocate 'redistributing wealth'?
At a campaign event Thursday, October 30, in Defiance, Ohio, Republican presidential nominee Sen. John McCain said, "So we finally learned what Senator Obama's goals are … to spread the wealth.
Washington Times: At least 4,000 foreign journalists to cover election
The whole planet is obsessed with the U.S. presidential election – and the world's news media is poised to deliver the goods, subject to interpretation in more ways than one. It is one big cultural moment. As of Monday more than 4,000 foreign journalists have been granted credentials to cover the campaign finale, according to State Department spokesman Keith Peterson.
Washington Times: D.C. vote in House might come with Obama
Legislation to grant the District a full vote in Congress for the first time likely would be enacted. Democratic presidential nominee Sen. Barack Obama and Republican opponent Sen. John McCain split along traditional party lines on the issue, but those lines have been blurred by growing Republican support for a D.C. House seat.
LA Times: L.A. County has already broken a voting record
Even before polling places open, Los Angeles County voters have already broken a record, with a 14% voter turnout in early ballots alone, said Los Angeles County Registrar-Record Dean Logan.