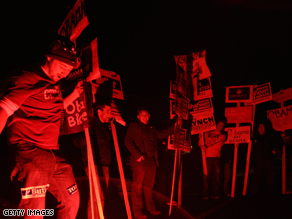 Residents of Hart's Location and Dixville Notch lined up at midnight to cast their ballots.
NORFOLK, Virginia (CNN) - Voters headed to the polls Tuesday morning in a historic 2008 presidential election, with citizens across eastern United States casting their votes.
People in the isolated New Hampshire village of Dixville Notch cast their ballots just after midnight. The village, home to around 75 residents, has opened its polls shortly after midnight each election day since 1960, drawing national media attention for being the first place in the country to make its presidential preferences known.
Watch: Obama's first win
Democrat Barack Obama won 15 of 21 votes cast, and Republican John McCain won six votes. It was the first time since 1968 that the village leaned Democratic in an election.
Since 1996, another small New Hampshire town - Hart's Location - reinstated its practice from the 1940s and also began opening its polls at midnight. The tally was Obama 17, McCain 10 with two votes written-in for Ron Paul.
Polls opened at 5 a.m. EST in Vermont and 6 a.m. EST in Connecticut, Indiana, Kentucky, Maine, New Jersey, New York, Rhode Island, Vermont, and Virginia. Polls opened at 6:30 a.m. EST in North Carolina, Ohio, and West Virginia.
Polls were to open at 7 a.m. EST in Delaware, the District of Columbia, Florida, Georgia, Illinois, Kansas, Louisiana, Maryland, Massachusetts, Michigan, Missouri, Pennsylvania, South Carolina, and Tennessee. Many voters chose to cast their ballots in the days and weeks before the election. With more states allowing voters to cast early or unrestricted absentee ballots this year, the potential for election-day problems have spread to other states now seen as battlegrounds in the race. Registration and absentee ballot issues topped last-minute concerns among voters in the days before Tuesday's presidential election, with one analyst predicting previous flashpoints may cause headaches again this year.
Of the more than 11,000 problems reported to CNN's Voter Hotline so far Monday, the largest number of complaints - more than 1,500 - come from Florida, where a hotly disputed recount settled the 2000 election. Another 450-plus originated in Ohio, where massive election-day turnout delayed the count in 2004.
The biggest complaints were early voting lines stretching for several hours, names that did not appear on voter rolls or absentee ballots that never reached the people who requested them. Similar patterns showed up among callers nationwide.
Broken voting machines were reported at the Penny Packer school in Willingboro, New Jersey, according to Joe Dugan, chairman of the Burlington County Election Board.
He said a mechanic was working on the machines and they are expected to be repaired soon. In the meantime, voters were being given emergency ballots.