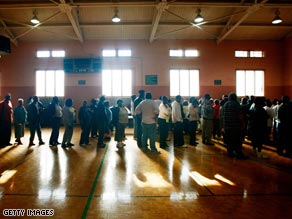 Voters register sour mood on economy.
(CNN) - Voters had a particularly pessimistic view of the nation's economy, the exit polls show. Only 6 percent said the economy was in excellent or good condition, while 93 percent said it was poor.
Voters are slightly more optimistic about the future Just less than 50 percent say the economy will get better over the next year, while a quarter think it will stay the same. But more than 20 percent predict that the economy will get worse.
One rule in politics: When the economy is bad, it is always the No. 1 issue, and it usually hurts the incumbent party.