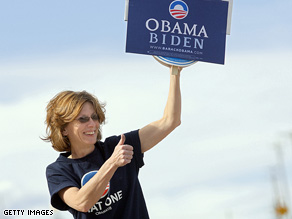 Diane Padolsky flashes a thumbs-up to a passing motorist in rural Colorado.
(CNN) - White voters in Colorado - who made up 80 percent of the electorate - evenly split their votes between Barack Obama and John McCain, 49 percent each, exit polls from Tuesday's presidential race show. Latino voters made up 13 percent of the electorate, and they went 2-to-1 for Obama - 64 percent to 32 percent.
Men made up 48 percent of Colorado's electorate. Exit polling also shows them splitting evenly between McCain and Obama at 49 percent each. And women, who made up 52 percent of Colorado's voters, went for Obama by 56 percent to 42 percent.