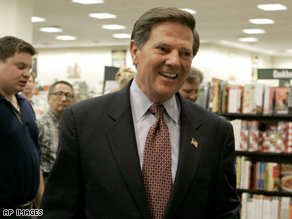 NEW YORK (CNN) - "The Hammer" is surely smiling.
Former Republican House Majority Leader Tom DeLay's old House seat is back in Republican hands.
In Texas' District 22, Democratic Rep. Nicholas Lampson has lost to Republican Pete Olson, a Navy veteran.
Lampson won the seat in 2006 after DeLay resigned under a cloud of scandal. He was known as "The Hammer" for being able to enforce party discipline when it came to getting House Republicans to vote. DeLay held the seat for two decades.