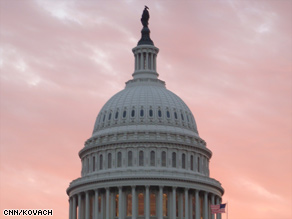 CNN: Obama: 'This is your victory'
Barack Obama told supporters that "change has come to America" as he claimed victory in a historic presidential election.
CNN: Analysis: Organization, strategy keys to Obama victory
Barack Obama's victory Tuesday over John McCain capped an unprecedented rise in American politics.
CNN: McCain: America has 'spoken clearly'
Sen. John McCain conceded the 2008 presidential election to Democratic rival Barack Obama late Tuesday, congratulating him on a historic victory and pledging to work with him in the months ahead.
CNN: Little rest for Obama, analysts say
Barack Obama will likely begin assembling his administration almost immediately, and cannot afford the so-called honeymoon some president-elects have enjoyed in the past, CNN analysts say.
CNN: Obama's speech
As released by the Obama campaign:
Remarks of President-Elect Barack Obama—as prepared for delivery
Election Night
Tuesday, November 4th, 2008
Chicago, Illinois
CNN Radio: Historic Victory for Barack Obama
Senator Barack Obama has won the White House in a landslide over John McCain and Democrats have tightened their grip on Congress. CNN's Dick Uliano has today's political ticker.


CNN: Obama victory: Global media reaction
Around the world, media reaction to the Democrats' victory has poured in, as newspapers and broadcasters reflect on the Obama campaign and the global impact his win will have.
CNN: Analysis: Turning points led to McCain's defeat
John McCain's fight for the White House was a microcosm of his political career and broader life - full of near-death experiences, stunning comebacks and close calls.
CNN: Obama's victory caps struggles of previous generations
At a modest stucco home in Montgomery, Alabama, an unlikely presidential victory celebration is taking place this morning. Peggy Wallace Kennedy, the daughter of the late George Wallace, the Alabama governor who once vowed to maintain segregation forever, is rejoicing.
CNN: Commentary: America's historic new chapter
Tuesday, November 4, 2008, will go down as the day America opened its history book, turned the page and started a new chapter of change.
CNN: Analysis: Turning points led to McCain's defeat
John McCain's fight for the White House was a microcosm of his political career and broader life - full of near-death experiences, stunning comebacks and close calls.
CNN: 'Yes we did,' Obama crowd chants at rally
A massive crowd in Chicago shouted "yes we can" and "yes we did" after it was announced that Sen. Barack Obama was projected to win the election and become the first African-American president of the United States.
CNN: Democrats still in the quest for 60 Senate seats
Democrats have gained a decisive majority in the U.S. Senate, according to CNN projections, and are still aiming to acquire a filibuster-proof 60 seats.
CNN: Exit polls: Supreme Court factor
National exit polling shows 53 percent of the voters considered the U.S. Supreme Court an "important factor" in their vote Tuesday.
CNN: Exit Polls: Young Voters
National exit polling shows 18 percent of today's voters were aged 18-29. While that 's up sharply from this age group's 12 percent turnout for the 2006 election, its exactly the same as the percentage of 18-29 year olds as in the 2004 and 2000 presidential elections.
CNN: Exit Polls: Latino voters tip balance
According to exit poll results released thus far, Latino voters voted for Barack Obama over John McCain by a more than a 2-1 margin nationally: 66 percent to 31 percent. The proportion voting for the Democratic candidate is up sharply from 2004, when 55 percent of Latino voters supported John Kerry and 44 percent voted for President Bush.
CNN: Bachmann survives 'anti-American' comments
She said she believed Sen. Barack Obama "may have anti-American views." But her views didn't cost Republican Rep. Michele Bachmann her seat in Minnesota's District 6.
CNN: GOP wins back DeLay's seat
"The Hammer" is surely smiling. Former Republican House Majority Leader Tom DeLay's old House seat is back in Republican hands.
CNN: Exit Polls: Michigan Misery
Exit polling shows ninety-five percent of today's voters in Michigan feel the national economy is "not so good" or "poor." They voted for Barak Obama by a margin of 60 percent to 37 percent.
CNN: Exit Polls: Colorado
Barack Obama can thank Colorado's Latino voters for his victory in the state.
CNN: Voters question abortion rights
In addition to selecting a new president, voters in three states cast their ballots Tuesday for initiatives that would affect abortion rights.
CNN: Reid, Lieberman to meet
Senate Majority Leader Harry Reid will likely meet later this week with Joe Lieberman to discuss whether the Democrat-turned-Independent will be stripped of his Senate committee chairmanship, a senior Democratic leadership aide tells CNN.
CNN: Exit Polls: Gay Marriage in CA
In California exit polls reported thus far tonight, Proposition 8 appears to be going down to a narrow 52 percent to 48 percent defeat.
CNN: Change of landscape in VA
Democrats are poised for big wins in Virginia. With Sen. Barack Obama projected to win the state's 13 electoral votes — the first Democrat to do so since 1964 — the party also claimed the state's open Senate seat and flipped at least one Republican-held seat in the House of Representatives.