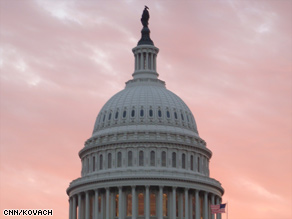 CNN: Official: Obama could name more administration picks Friday
President-elect Barack Obama could name other members of his administration on Friday, a day after he named Rep. Rahm Emanuel as White House chief of staff, an Obama transition official said.
CNN: Emanuel pick gets mixed reaction
President-elect Barack Obama's first major appointment received mixed reaction from Democrats and Republicans. Rep. Rahm Emanuel on Thursday accepted Obama's offer to be White House chief of staff.
CNN: Emanuel expected to bring 'tough-minded' approach to White House
U.S. Rep. Rahm Emanuel will bring a "tough-minded" and "pragmatic" approach to the White House when he becomes President-elect Barack Obama's chief of staff, according to people who know the Chicago, Illinois, native.
CNN: Lieberman may have day of reckoning with Democrats
Sen. Joe Lieberman met Thursday with Senate Majority Leader Harry Reid to discuss Lieberman's future with the Democratic caucus.
CNN: Obama, McCain campaigns' computers hacked for policy data
Computers at the headquarters of the Barack Obama and John McCain campaigns were hacked during the campaign by a foreign entity looking for future policy information, a source with knowledge of the incidents confirms to CNN.
CNN: McCain sources gripe about Palin
Republican VP nominee Sarah Palin had prepared to deliver a concession speech before John McCain's Tuesday night — and brought her remarks with her to his Phoenix concession — but senior McCain campaign adviser Steve Schmidt told her she could not.
CNN Radio: That last election sure was fun, now it's on to the 2012 campaign
A senator for Oregon, a new head of staff for the White House, options for Joe Lieberman and, we hate to tell you, but someone is already starting the race for 2012. Lisa Desjardins has today's CNN Political Ticker.

CNN: Historians: Bush presidency 'battered,' 'incompetent,' 'unlucky'
With record low approval ratings and intense criticism for his handling of the Iraq war, Hurricane Katrina and the economy, the word most used to label George W. Bush's presidency will be "incompetent," historians say.
CNN: Biden flies home for 'coolest event in entire USA'
Wearing a long dark coat to keep the cold rain off of him, Vice President-elect Joe Biden and his wife Jill rode around the streets of this small town in their home state Thursday afternoon in a white horse-drawn carriage as part of the biennial 200 year-old Delaware tradition known as 'Return Day.'
CNN: First Dog takes a bite at White House reporter
President-elect Barack Obama's daughters have been promised a puppy for the White House — President Bush's dog, Barney, demonstrated his technique for dealing with the media Thursday…sinking his teeth into Reuters TV White House correspondent Jon Decker.
CNN: Palin camp fires back over claims by some McCain aides
The war of words between supporters of each half of the Republican presidential ticket escalated Thursday, as a spokeswoman for Sarah Palin called charges circulated by former campaign aides to John McCain 'sickening,' and the Alaska governor herself said the advisers spreading the rumors were 'small, evidently bitter' people.
CNN: Source: Axelrod to be named presidential adviser
A source with the Obama Transition team tells CNN Senior Political Correspondent Candy Crowley that a plan to name David Axelrod a Senior Adviser to the incoming President is "in the works."
CNN: Blunt to step down as whip
House Minority Whip Roy Blunt, who will step down from his leadership post in the next Congress, said Thursday that President-elect Obama appears "much better prepared" heading into his first term than President Clinton had been.
LA Times: Schwarzenegger names his children's nanny to state board
Reporting from Sacramento - California has often been tagged as the "nanny state" for passing laws that some people say interfere with citizens' lives. But now it has earned the label for a whole different reason, thanks to Gov. Arnold Schwarzenegger.
Richmond Times-Dispatch: Kaine defends report on Tech massacre
The governor's panel report on the Virginia Tech massacre may have inaccuracies, but the group did its key task, Gov. Timothy M. Kaine says.
Anchorage Daily News: Pollsters miss mark in Alaska elections
The pollsters all agreed. Anchorage Mayor Mark Begich would whip Republican Sen. Ted Stevens in Tuesday's election. Maybe by a little. Maybe, as some polls predicted, by a landslide.
Boston Globe: A welcome dilemma for newly reelected Kerry
John Kerry is in a public relations pickle. It's bad form to seem hungry for a Cabinet post, particularly if you've just run for reelection professing that there's nothing more in the once-vast realm of your ambition than serving the good and decent people of Massachusetts.