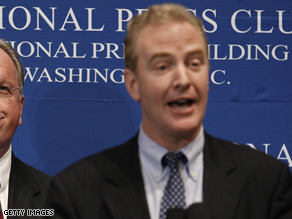 Rep. Chris Van Hollen will stay on as DCCC head through 2010.
WASHINGTON (CNN) - After telling reporters last week that he wasn't planning to run for another term as the head of the Democratic Congressional Campaign Committee, Rep. Chris Van Hollen has changed his mind and agreed to stay on for the 2010 election cycle, two senior Democratic congressional sources confirmed to CNN.
The Washington Post first reported the Maryland congressman's decision.
With Van Hollen at the helm of the DCCC this year House Democrats picked up 19 seats, with results from another six House races still outstanding. These gains follow 30 Democratic pickups in the House in 2006, when the party took control of the chamber after 12 years in the minority.
Speaker Pelosi also tapped Van Hollen for another leadership role, giving him the post of Assistant to the Speaker. One aide described this as a way to give the Maryland Democrat a bigger role at the leadership table: "He has a bigger portfolio - it expands it to policy, it's not just political."
With Van Hollen taking himself out of the race to replace Illinois Rep. Rahm Emanuel as Chairman of the House Democratic Caucus, Pelosi avoids a fight for the number four position. The job is now virtually assured to go to Emanuel's vice chairman, Connecticut Congressman John Larson.