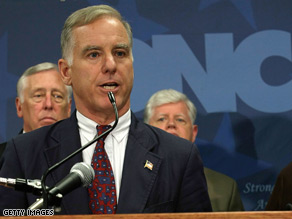 Dean will not seek another term as head of the DNC.
WASHINGTON (CNN) - As expected, Howard Dean will hand over the reins at the Democratic National Committee when the party meets again in January.
The 2004 presidential candidate's approach - innovative Web outreach techniques and a determination to compete in areas that have not historically supported Democrats - have dove-tailed with those of President-elect Obama.
But incoming Democratic presidents are traditionally given the prerogative to select their own candidate for the post, which is then approved by party officials. The position tends to dramatically recede in importance when Democrats control the White House.