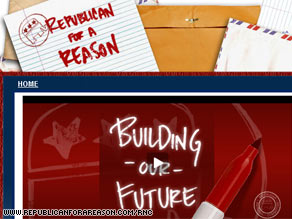 The RNC has launched a new Web site that allows users to share their reasons for backing the party and to share their ideas for regrouping in the wake of Democratic successes in last week's election.
(CNN) – A week after a group of young conservatives laid out an ambitious agenda for the Republican Party that's focused on catching up to the Democrats online, the RNC has launched a Web site that allows users to explain and share their reasons for backing the GOP.
Users who create an account on the site can submit video or text submissions regarding the future of the party. The site also prominently features a four-and-a-half-minute video that is a retrospective of the presidencies of Ronald Reagan, George H. W. Bush, and George W. Bush.
The site allows users to "offer their opinion of where the Party is headed and how we can be better prepared for the future," the RNC explained in a press release Tuesday.
"We are a party of principles and must regain our voice," said RNC Chairman Mike Duncan, said in the release. "We need to hear what our volunteers, activists, elected leaders, and party members think about the Republican Party as we rebuild, re-focus, and renew our bond with the American people," Duncan added.
Watch: GOP should focus on technology, blogger says
Republicans suffered a brutal day at the ballot box last week when Sen. John McCain lost his bid to capture the White House, Democrats picked up six seats in the Senate with three seats in that chamber still undecided, and Democrats increased the margins are their majority in the House which they have held since the 2006 midterm election.
Political observers say the Republican Party finds itself at a crossroads with the conservative and moderate wings of the party at seemingly odds and the vitality of some its core principles – like a commitment to smaller government – in question in the wake of President Bush's eight years in office.