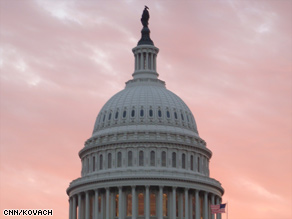 CNN: Belief that country heading in right direction is at all-time low
On the day that President-elect Barack Obama visited the White House, a new national poll illustrates the daunting challenges he faces when it becomes his home next year.
CNN: Obama team ponders what to do with Guantanamo inmates
President-elect Barack Obama's transition team has begun examining what to do with suspected terrorists at the U.S. prison camp at Guantanamo Bay, Cuba, which Obama has pledged to close, an aide said Monday.
CNN: Bushes welcome Obamas to White House
President Bush and first lady Laura Bush welcomed President-elect Barack Obama and his wife, Michelle Obama, to the White House on Monday afternoon.
CNN: Commentary: Mr. President-elect, strengthen fight against cancer
Here's something that should outrage you: Every day, more than 1,500 Americans die of cancer. Our federal government knows how to prevent many of these losses. Tragically, its attention has simply been elsewhere.
CNN: Obama inauguration tickets fetching 5 figures online
Interest in President-elect Barack Obama's inauguration is running so high that one ticket broker is asking $20,095 for a single ticket.
CNN: Judge rules civil case against Bush administration may proceed
A federal judge in Washington Monday allowed two private watchdog groups to sue the White House in a case involving potentially millions of missing e-mails.
CNN: Obama launches Web site to reach public
Barack Obama had a formidable online presence during his quest for the White House, and he is once again turning to the Internet to communicate with the American public as president-elect.
CNN: Palin says Bush record led to GOP loss
Sarah Palin told local reporters in Alaska that unhappiness with the Bush administration's Iraq war policy and spending record were responsible for the GOP ticket's defeat this year.