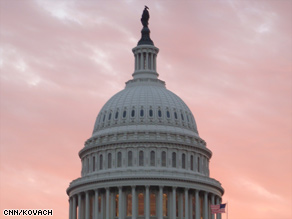 CNN: Americans OK with Democrats in charge, poll suggests
Sen. John McCain railed against Democratic control of Washington during his closing argument of his presidential campaign.
CNN: In poll, African-Americans say election a 'dream come true'
For most African-Americans, the election of Barack Obama as president was a dream come true that they didn't think they would see in their lifetime, a national poll released Tuesday suggests.
CNN: Bush: 'I regret saying some things I shouldn't have said'
As his presidency nears its end, a reflective President Bush suggested Tuesday that he regrets some of his more blunt statements on the war on terrorism over the last eight years and said he wishes he had not spoken in front of a "Mission Accomplished" banner only a month after U.S. troops in Iraq were deployed.
CNN: Potential grows for lame-duck session of Congress
A rapidly deteriorating situation in the U.S. auto industry may serve as the backdrop for a classic contest of political wills between the outgoing Bush administration on one hand and both President-elect Obama and the newly strengthened Democratic congressional majority on the other.
CNN: Can John Edwards make a comeback?
John Edwards took the stage at Indiana University on Tuesday night for a discussion on the 2008 presidential election, but members of the audience may have had something else on their minds entirely.
Washington Post: Top Two Officials In U.S. Intelligence Expect to Lose Jobs
The nation's top two intelligence officers expect to be replaced by President-elect Barack Obama early in his administration, according to senior intelligence officials.

CNN: Obama, Bush deny bailout bargaining
Both the White House and a senior aide to President-elect Obama on Tuesday emphatically denied there had been any attempt on the part of President Bush - while meeting with Obama on Monday - to link a federal bailout of the struggling auto industry or a second stimulus package to passage of a Colombia free trade deal.
CNN: Army chiefs urge caution for Obama's planned troop cuts
President-elect Barack Obama is not backing away from his campaign promise to bring all U.S. combat troops home from Iraq by late spring 2010.
CNN: White House superintendent ready for new Obama pet
During her White House visit Monday, Michelle Obama learned about a key staffer who will play a critical part in the Obama family's transition — to dog owners.
Washington Post: Obama Enters Georgia Race, Symbolically
One week after his historic victory, President-elect Barack Obama has become a critical figure in Georgia's runoff election for a Senate seat, a contest that will help determine the size of the Democratic majority Obama will have to help move his agenda.
NYT: World Leaders at Nation's Doorstep, but Next President Isn't Taking Meetings
The world is waiting for President-elect Barack Obama, and some of its most prominent leaders are flying into the United States this weekend clamoring to meet with him. But they will have to keep on waiting.
WSJ: Richardson Gets Backing For Secretary of State Post
The battle for America's top diplomatic post spilled into view Tuesday, as some Hispanic leaders made a public push to have President-elect Barack Obama name Bill Richardson, the governor of New Mexico, as his secretary of state.
LA Times: Obama's election: a turning point in the perception of blacks?
African American men wonder if the wider culture will finally start to see them as true equals or if the president-elect will just be seen as yet another exception.
Miami Herald: Miami Mayor Manny Diaz 'in the mix' for Obama post
Miami Mayor Manny Diaz could be appointed to a high-level position in the new president's administration.