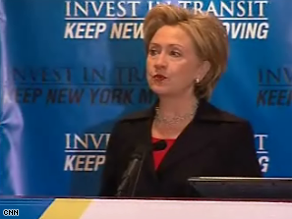 Clinton spoke in Albany Friday.
(CNN) - Hillary Clinton refused to speculate on whether she will be a member of Barack Obama's administration Friday.
"I'm very happy there is so much press attention and interest in transit," Clinton said to laughs during a speech in Albany on the subject. "In the off chance that you're not here for this important issue and are here for some other reason, let me just say that I'm not going to speculate or address anything about the president-elect's incoming administration."