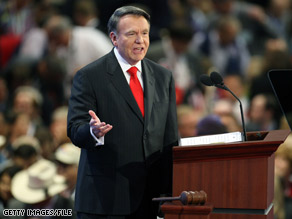 The term of RNC chairman Mike Duncan is almost up and a growing list of prominent Republicans has expressed interest in guiding the GOP.
WASHINGTON (CNN) - It's the first big battle for the future of the Republican Party.
Early next year, party leaders will gather to elect the next chairman of the Republican National Committee, which the GOP's principal campaign and fund-raising organization.
Current chairman Mike Duncan, whose term is drawing to a close, has been non-committal regarding a run for re-election. "I don't know. My job is to continue this election," Duncan told CNN Friday, when asked about the possibility of another term at the helm of the RNC. "We have the runoff in Georgia, we have the recount going in Minnesota, we have two elections that haven't been held yet in Louisiana. My first responsibility is to do my day job. After that I will make a decision."
Asked about criticism of the GOP after its loss of the White House and seats in both chambers of Congress in last week's election, Duncan said that "the Republican Party has not lost its way," adding that "we have a deep bench in the Republican Party, and we have a lot of people who are interest in being RNC Chairman."
Among those who've formally thrown their hats into the ring are former Maryland Lt. Governor Michael Steele and Michigan Republican Party Chairman Saul Anuzis.
(full list of candidates after the jump)
Here's a list of probable and possible contenders for the RNC chairmanship:
MIKE DUNCAN: current RNC chairman
MICHAEL STEELE: former Maryland lieutenant governor; has formally entered the race for GOP chair
SAUL ANUZIS: Michigan Republican Party chairman; has formally entered the race for GOP chair
KATON DAWSON: South Carolina Republican Party chairman
JIM GREER: Florida Republican Party chairman
JOHN SUNUNU: outgoing New Hampshire senator
NEWT GINGRICH: former House Speaker from Georgia
CHIP SALTSMAN: former Tennessee Republican Party chairman
JIM NUSSLE former Iowa congressman