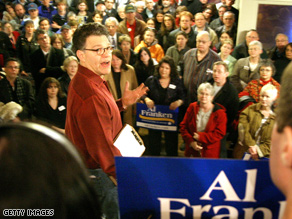 Al Franken and Norm Coleman are still locked in a neck-and-neck Senate race.
MINNEAPOLIS, Minnesota (CNN) - The hotly-contested - and yet to be decided - Minnesota Senate race may be headed for a recount, but Democrat Al Franken is already headed for Washington.
Franken will head to Washington, D.C. Wednesday to hold meetings with Senate leadership. That's the same day the state-mandated recount - which will determine whether Franken or incumbent Republican Sen. Norm Coleman will emerge victorious - is set to begin.
Franken spokeswoman Colleen Murray said the former comedian-turned-Senate candidate will meet with Senate Majority Leader Harry Reid and others in lieu of attending the Senate's freshman orientation since, Murray said, Franken thinks that would be "presumptuous."
Murray said Franken plans to brief aides on the current status of the recount and will discuss "the next Congress and the new session, so that should he win this election when it's all said and done, he'll be ready to hit the ground running on Day One."