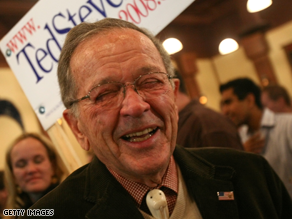 (CNN) - It may not be the happiest of birthday's for Ted Stevens. As the longtime Republican Senator from Alaska marks his 85th birthday, he's fighting for his political life.
Stevens was convicted last month of seven felony counts in federal court.
He's locked in a re-election battle with his Democratic challenger, Anchorage Mayor Mark Begich. Two weeks after election day, the vote counting in Alaska continues. Begich currently leads Stevens by 1,022 votes in the fight for Steven's seat, which he's held for 40 years. Some 24,000 votes remain to be counted, as well as absentee ballots from overseas. The results may not be made final until the first week of December.
Back in Washington, Senate Republicans today could vote to expel Stevens from their ranks. This after a move by Sen. Jim DeMint, R-South Carolina, to force a vote on ousting Stevens from the GOP conference, which would strip him of his committee assignments if he survives his campaign battle and is re-elected.
Stevens is trying to become the first person awaiting felony sentencing to ever get elected or re-elected to the Senate. A federal jury found him guilty of lying about gifts and work on his Alaska home. Stevens says he's innocent and will appeal.
UPDATE: Moments after the GOP senators' meeting began Tuesday, DeMint announced he would put off the vote until after Alaska announces the final tally of the close election. An unofficial tally could come Tuesday night.