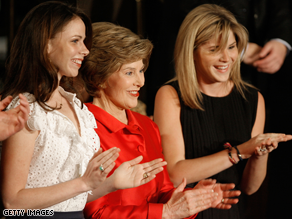 The Bushes toured the Obamas through the White House Tuesday.
(CNN) - Jenna and Barbara Bush, the president's daughters, personally toured Barack Obama's daughters around the White House Tuesday, a White House spokeswoman said.
The Bush daughters showed Malia and Sasha Obama their future rooms and other parts of their soon-to-be home, according to Sally McDonough, first lady Laura Bush's press secretary.
"Mrs. Bush hosted Mrs. Obama and her family at the White House this afternoon. Barbara and Jenna joined, and they enjoyed showing their rooms to the Obama girls," McDonough said. "The visit lasted approximately one hour."