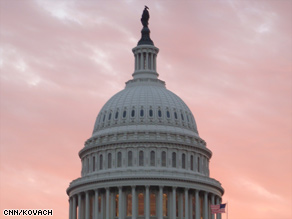 CNN: Bill Clinton could pose Cabinet problem
Former President Bill Clinton's international business dealings, global foundation and penchant for going off script could present a significant obstacle to Hillary Clinton becoming secretary of state, observers say.
CNN: Sources: Lieberman likely to keep top Democratic post
Senate Democrats appear willing to let Sen. Joe Lieberman, I-Connecticut, keep his powerful Homeland Security Committee chairmanship, even though he campaigned vigorously for Sen. John McCain's White House bid, two sources told CNN Monday.
CNN: Commentary: How Obama can fix the economy
President-elect Barack Obama has been holding his economic cards close to his vest. He did not participate in person at last weekend's meeting of G20 leaders.
CNN: Obama team meets with Rice, Defense officials
Members of President-elect Barack Obama's transition team met with key officials in the Defense and State Departments Monday, including Secretary of State Condoleezza Rice.
CNN: Huckabee settling old scores?
Former Arkansas Gov. Mike Huckabee appears to be settling scores with two Republicans he battled during his bid for the Republican presidential nomination.
CNN: Franken not ruling out asking for postponed recount
Democrat Al Franken's campaign made yet another attempt Monday to have certain rejected absentee ballots thrown into the mix when the recount officially commences Wednesday. They've now taken their argument straight to Secretary of State Mark Ritchie's canvassing board.

CNN: GOP senator scolds DeMint over McCain comments
Alabama Sen. Richard Shelby scolded fellow Republican Sen. Jim DeMint Monday over his recent criticisms of John McCain.
CNN: Feinstein: Inaugural passes not 'tickets to a football game'
Sen. Dianne Feinstein is on a mission during the current lame duck session of Congress that isn't focused solely on the words 'bailout' or 'economy.'
CNN: Obama acts presidential even as he lays low
The man once referred to by a rival campaign as "the biggest celebrity in the world" has intentionally been keeping a very low profile in the awkward limbo period between Election Day and his inauguration on January 20.
San Francisco Chronicle: Lawmakers choosing GOP, Democratic leaders for '09
Technically, lawmakers are returning to Washington for a final meeting of the old, lame-duck 110th Congress. In reality, the confab on Capitol Hill is nearly all about next year.
Washington Post: Can Mall Be Filled For an Inauguration? 4 Million May Try It.
District and federal officials are preparing for as many as 4 million people for the inauguration of President-elect Barack Obama, a crowd that would be three or four times larger than previous big events on the Mall.
Washington Times: Obama adviser lobbied to protect Fannie
A transition adviser to President-elect Barack Obama earned millions of dollars overseeing an office that led a lobbying effort to prevent increased oversight of mortgage giant Fannie Mae, the company at the heart of the ongoing turmoil in the nation's financial markets, public records show.
Anchorage Daily News: Alaska voter turnout may set a record
Alaska voter turnout for this year's election appears now on track to be the highest ever.
That's contrary to hand-wringing about why Alaskans didn't show up for this historic election, and even some speculation that ballots weren't being counted.
AP: Obama advisers: No charges likely vs interrogators
Barack Obama's incoming administration is unlikely to bring criminal charges against government officials who authorized or engaged in harsh interrogations of suspected terrorists during the George W. Bush presidency.
Washington Post: From Justice Stevens, No Exit Signs
For all the speculation about how President-elect Barack Obama's nominees may change the Supreme Court, there is one irrefutable fact: He can't make an appointment until there is a vacancy.
WSJ: A New Assertiveness on Economy
Senate Majority Leader Harry Reid pledged Monday to press ahead with legislation giving government aid to Detroit's ailing auto makers, but prospects for passage before a new Congress arrives next year remained dim.