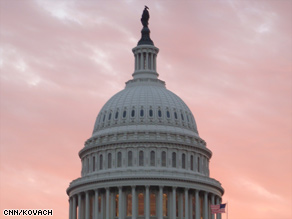 CNN: Senate offers Clinton new options
The Democratic Senate leadership is considering a new role for Sen. Hillary Clinton should she decide to remain in the Senate and not accept the rumored offer of a position in President-elect Barack Obama's Cabinet, a Democratic official told CNN Wednesday.
CNN: New Congress members meet big-money donors
Before being sworn in or casting their first votes, some newly elected members of Congress were introduced Wednesday to another hallmark of life on Capitol Hill - the big-ticket reception for big-money donors.
CNN: Huckabee says he's not settling scores
Former Republican presidential candidate Mike Huckabee said Wednesday he's not trying to settle old scores with his onetime GOP rival Mitt Romney, despite sharply criticizing the former Massachusetts governor in a book out earlier this week.
CNN: Iraq pact timeline calls for troops to leave by 2011, Pentagon says
A security pact between the U.S. and Iraqi governments will allow U.S. troops to finish the work it needs to do before leaving the country, a Pentagon spokesman said Wednesday.
CNN: Minnesota Senate race recount could get ugly
The Senate campaign in Minnesota between incumbent Republican Norm Coleman and Democratic challenger Al Franken was considered to be quite nasty, with attack ads and angry statements by both sides.
CNN: Obama brings Biden birthday cupcakes
The day before Vice President-elect Joe Biden turns 66, President-elect Barack Obama presented his running mate with 12 candlelit cupcakes after their weekly lunch on Wednesday.
CNN: Obama announces more White House staff
President-elect Barack Obama formally announced the additions of key White House staff members on Wednesday, including the previously expected choice of David Axelrod as Senior Advisor to the President