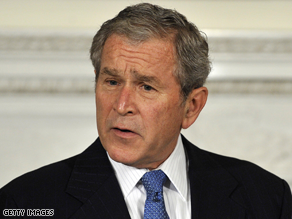 President Bush is thanking staff members and their families.
WASHINGTON (CNN) – During a midday appointment at the White House, it is a surprise to see a young boy in a blazer and tie, walking in the West Wing corridor just steps from the Oval Office and anxiously clutching a shiny new baseball.
It is a sign of the times – and a sign of the president's respect for those who keep the government working.
In his final weeks in office, President Bush just about every day he is in Washington is blocking out an hour of time to take farewell photographs with Executive Branch staffers and their families.
Aides say Mr. Bush wanted a chance to say thank you to those who work in the administration – as well as a chance to thank their spouses and children for putting up with the long hours. Not to mention sign a few baseballs.