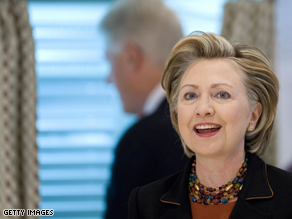 Clinton appears increasingly likely to be Obama's secretary of state.
(CNN) - President-elect Obama is on track to nominate Sen. Hillary Clinton as his secretary of state after Thanksgiving, three aides on Obama's transition team told CNN Thursday.
Clinton senior adviser Philippe Reines repeated a statement that "any and all speculation about Cabinet or other administration appointments is for President-Elect Obama's transition team to address."
CNN also has learned that Obama is getting foreign policy advice from an unlikely source: Republican Brent Scowcroft, who was national security adviser in the first Bush administration.
Two sources familiar with the conversations confirm to CNN that Obama reached out to Scowcroft for phone chats even before he ran for president, and the back-and-forth has continued in recent days as the president-elect assembles his Cabinet.